Want 100% Safe & Natural Weight loss Pill with No Side Effects? Click Here

What is the squat thrust exercise?

What is the squat thrust?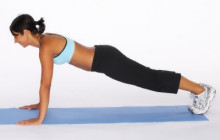 Push-ups and sit-ups... the simple and straightforward exercises that everybody understands today. They do great job to help you look fit but if you want to get a really fit looking body, you will need to go beyond these simple exercises and put more muscles to work.
Even if you are controlling your food intake and even have a perfect diet it will only take you half a way through your goal.
Want to get the rest? You will have spend some more time on exercises that burn out fat, build stronger and better looking muscles. For this very reason, squat thrust exercise is one truly good exercise that can be easily performed by anyone even at home.

How do you perform it?
Just like in the normal push up position to perform squat thrust, you have to put your hands on the floor, kepp shoulders width apart and the legs stretched. And that's the easy part :) You bring both legs forward, underneath your torso, by bending your knees and thrusting forward. The 3rd step is to return your legs to the original position with the same quick and powerful movements.
...And that's it! Not too hard, right?
This one you can perform by bringing your right leg forward, in a position that resembles that of a runner at the start line. Now, thrust both legs simultaneously when the right leg is going back and your left leg is coming forward to replace the right one. Now do it agin when you are bringing the right leg forward and pushing your left leg back.

What are the benefits?
As mentioned earlier, the squat thrust exercise is easy but very helpful to work out the glutes, the hamstrings and the quads, when some benefits for the triceps. Keep in mind that you have to be careful not to trip and fall. Also make sure that your hands are firmly keeping your whole body in the correct position.
If you consistently go for 15-20 reps in every workout session, you'll be proud to show off with some great muscles on your legs to anyone who wants to look. I assume that you already know that muscular legs in men impress the ladies... Do I really need to tell you how you feel about women with good-looking legs? You get the point ;)

Final advice
As a final word of advice, Just to stress it out once again that all these exercises must be combined with keeping a close eye on food you're going to eat. That means that fruits, veggies and other healthy foods must take the place instead of junk food, snacks, sodas that have to go, otherwise what kind of benefits can you expect from squat thrust exercise?!
Click Here to Discover Our Top Rated Weight Loss Pill
Now Available With Great Discounts!

What You are Waiting For? All You Have To Lose Is Your Weight!
And See How Much You Gain ...