What are the health benefits of exercise?

Having Slim and Attractive Body is just a Click away!

Exercise health benefits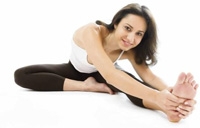 I bet you hear it quite often that you have to start exercising, if you are not already doing it.
Moreover... I bet you wonder what is it all the fuss about and what are those health benefits that exercising can offer you, right?
And I understand your wish to research at first and find out what health benefits you can expect if you start exercise regularly.
Nowadays, almost every health expert encourage people to make exercise as a integrated part of daily routine to help you promote general health and well-being.
What are the basics for keeping your body healthy? Well balanced and proper diet, adequate rest, time for recreation and relaxation, exercise on regular basis, all these are recommended in order to promote your optimal health.
If you live a sedimentary lifestyle and are usually inactive, by becoming even moderately active on a regular basis, can help you improve your health and well-being.
Keep in mind that you do not need to exercise for Olympics nor your physical activity have to be strenuous, to achieve significant health benefits.
All you have to do is increase the amount of your physical activity: duration, frequency, or intensity, and you will achieve greater health benefits.

To read more about losing weight, click here
Some consider exercising good only effective weight loss and fat burning but if you research better there are many benefits that exercising is offering you. And it starts with a reducing risks of developing or dying from some of the leading causes of illness and diseases.
Take a look at a general overview of the health benefits that exercise can offer you:
By doing exercise you can reduce risks of dying from heart diseases, various cancers (uterine, colon, and breast), stroke, diabetes and arthritis.
You can reduce risks of dying prematurely.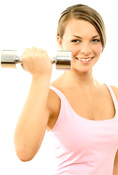 Exercise is effective to help you lose unwanted weight and especially fat weight. You can reduce your Body Mass Index (BMI), lower bad cholesterol level and reduce the circulating levels of triglycerides in your blood and effectively boost your metabolic rate. Perhaps this is the real reason why physically active people can "Eat anything and not gain weight" when other folks "Gain weight even just by looking at food."! :o)
Exercise boost your immune system function and blood and oxygen supply to your vital organs.
Exercise prevents your insulin sensitivity and lowers the risk of developing type 2 diabetes.
Exercise increases your energy and endurance level.
Exercise slows down aging by improving your physical, mental, emotional and psychological well- being.
Exercise reduces your risk of developing many bones and joints diseases or disorders.
By boosting oxygen supply to your brain, exercise even helps in enhancing creativity and imagination. It is also linked with improved mental vigor, better mood, better reaction time, acuity, and even math skills.
Exercise helps you improve self esteem and confidence, provides you physical and mental rejuvenation, making you feel better about yourself.
Exercising boosts biochemical processes in your body and be releasing the chemicals called endorphins into the blood stream, it gives you better overall feeling of well-being. The same chemical is in love or eating chocolate induced!
Exercise will improve you sleep. Keep in mind not to exercise too close to your bedtime because it may keep you awake. Going to bed? Make sure you do not overdo it! Go only for a brisk walk. According to the health experts recommendations, you should allow yourself about 3 hours between exercise and going to bed.
Click here to help cut out 28% of your dietary fat intake
What are you doing when you come back from work?
Laying on the couch and watch TV shows?
May I advise you to stop doing that?
Yes, Get off that couch and start moving as soon as possible. Even if you feel exhausted, by doing some physical activity you will start feeling better, and improve your mood and feel less tired.
Remember, the exercising today will show positive health benefits later on in your life!
What You are Waiting For? All You Have To Lose Is Your Weight!
And See How Much You Gain ...